1 year + GIVEAWAY
Saturday, August 10, 2013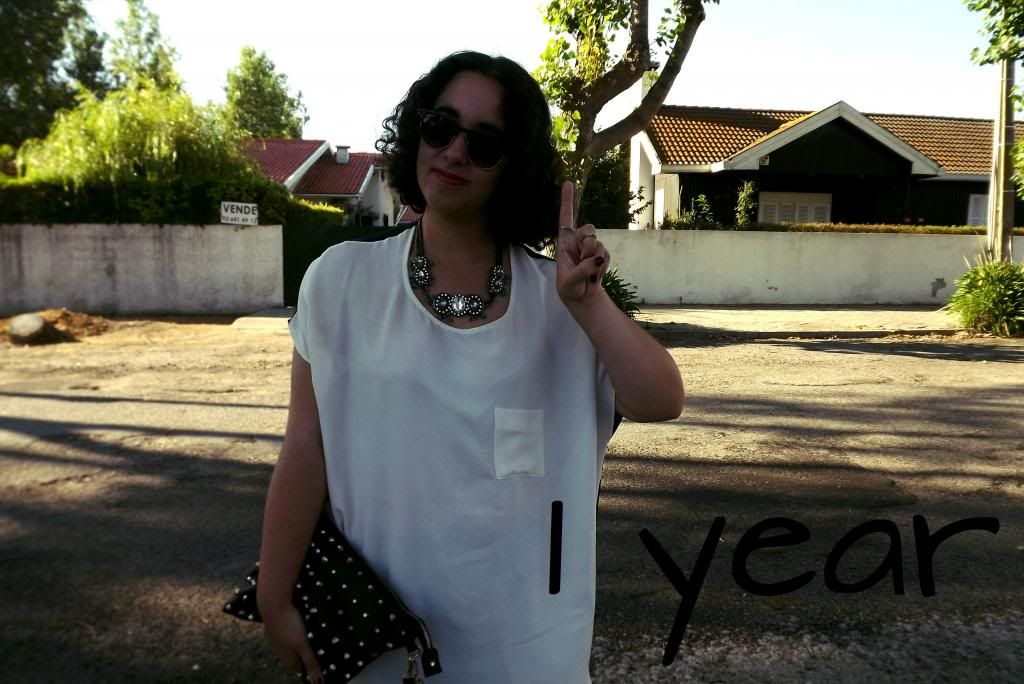 (EN) I can´t believe it's been one year. In a blink of an eye the time flew. It seems like yesterday that the thought of creating a blog fashion haunted me (in a good way of course). Much has changed in my life this year: the way of being, the way of dressing, friends, home, independence, freedom. Even the blog had its room to grow. But I feel sorry for one thing: not having devoted more time to blogging, after all fashion is present 24 hours in my head. And that's why I decided to make some slight changes here. The Golden Soul will stop being purely a blog about my personal style to be a blog for that and much more. Here I will review products and write chronicles of the fashion world (at least one per week). The Golden Soul will grow and I'll work to make it come true.
Now sentimentality aside, let's get to what really matters. It's time to ... (ta ta ta ra ra ra!) GIVEAWAY! Yei. Who is my follower is already thinking: this bitch will finally have a bit of action on the blog and sponsor a giveaway. Well, I've wanted to do one a long time ago, but the opportunity never came. Better late than never, give me this credit. And believe me what I am going to give you of my favorite products, so I'm very pleased to be able to give you the chance to win them! A lipstick (color that I'm wearing in the first photo) and a nail polish of the same color by KIKO Cosmetics.
What you have to do to join:
1. Follow The Golden Soul on Bloglovin (required)
2. Follow on Google Friend Connect (extra)
3. Follow on Twitter (extra)
4. Follow on Instagram (extra)
5. Comment bellow where you followed and your email
Follow me on Bloglovin is required to enter the contest, follow me on Twitter, Instagram and GFC gives you extra chances to win. The winner will be chosen randomly. The giveaway ends August 20 and is worldwide! Good luck!
(PT) Nem acredito que já se passou 1 ano. Num piscar de olhos, num estalar de dedos. Parece que foi ontem que o pensamento de criar um blogue de moda me assombrava (num bom sentido claro). Muito mudou neste ano: maneira de ser, maneira de vestir, amizades, casa, independência, liberdade. Até o blogue teve o seu espaço para crescer. Mas tenho pena de uma coisa: não ter dedicado mais do meu tempo ao blogue, afinal de contas a moda está presente 24 horas na minha cabeça. E é por isso que resolvi fazer umas ligeiras mudanças por aqui. The Golden Soul vai deixar de ser um blogue puramente sobre o meu estilo pessoal para ser um blogue disso e muito mais. Por aqui vão passar revisões de produtos e crónicas do mundo da moda (pelo menos uma por semana). The Golden Soul vai crescer e eu vou trabalhar para que isso se concretize.
Agora sentimentalismo à parte, vamos ao que realmente importa. É hora de… (ta ta ta ra ra ra!!!) um passatempo! Yei. Quem é meu seguidor até já deve estar a pensar: finalmente que esta gaja vai ter um pouco de acção no blogue e patrocinar um passatempo. Bem, eu já queria ter feito um há algum tempo, mas nunca surgiu a oportunidade para isso. Mais vale tarde que nunca, dêem-me esse crédito. E acreditem que o que vos estou a dar são dos meus produtos favoritos, por isso estou muito contente por vos poder dar a oportunidade de os ganharem! Um baton da cor que eu estou a usar na primeira fotografia e um verniz da mesma cor.
O que têm que fazer para participarem:
1. Seguir The Golden Soul no Bloglovin (obrigatório)
2. Seguir no Google Friend Connect (extra)
3. Seguir no Twitter (extra)
4. Seguir no Instagram (extra)
5. Comentar onde seguiram e email
Seguirem-me no Bloglovin é obrigatório para entrarem no concurso, seguirem-me no Twitter e no Instagram dá-vos mais possibilidades de ganhar. A vencedora será escolhida aleatoriamente. O prazo do passatempo é 20 de Agosto e é para todo o Mundo! Boa sorte!!!
Love, Inês